Generation and Stanley Black & Decker to launch new employment training program in Dallas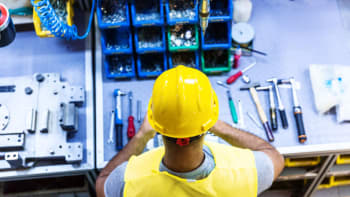 Program will offer hands-on guided experiences to bridge the gap between skilled training and employment for youth in the trades industry
Generation is partnering with Stanley Black & Decker in Dallas to launch a new skilled training program for youth and unemployed adults interested in becoming a machine operator. After completion of the program, students in good standing will have an opportunity to interview for a position with Stanley Black & Decker. The new and one of a kind program is free for students and will take place on Stanley Black & Decker's campus in Dallas, Texas.
"Generation is pleased to expand on our program in Dallas, partnering with a major employer in the area, Stanley Black & Decker," said Generation US COO Sean Segal. "The need for trades positions in Dallas, like these future machine operators, is immense. With Stanley Black & Decker's reputation and Generation's unparalleled ability to train youth for careers, this partnership aims to build on our current successes in the Dallas community, while adding value to the community's workforce development efforts with new programs and partnerships like this."
The partnership launched a joint program on August 27 in Dallas, reaching 60 young adults during the launch phase. Stanley Black & Decker will host the course on campus providing direct experience with industrial machinery to create quality output. Generation will also offer students support to develop skills related to professionalism, safety, math and communication. Students will also receive a weekly stipend during the five-week program.
"We believe Generation can help us fulfill our purpose statement at Stanley Black and Decker Dallas," said Stanley Black and Decker Dallas Spokesperson, Jennifer Ulrich. "For those who make the world, one turn at a time."
Generation's unique curriculum methodology allows for the development of a role-specific training program focused on the technical and employability skills needed so that young people are poised for success in a career-launching role. Generation aims to develop skills, shift mindsets and truly prepare individuals for the realities of a new role.
"While developing the machine operator curriculum for Dallas, we had the pleasure of shadowing high-performing machine operators and interviewing staff over several days to identify the skills needed for a successful career as a machine operator in manufacturing and beyond," said Global Curriculum Lead Kelly Cassaro. "I loved meeting successful machine operators who did not initially think manufacturing was for them. They let go of any preconceived notions they had about manufacturing, committed to their own training and development, and are now in a rewarding career that they love."
For more information about the program, please visit www.generation.org/machineoperator.