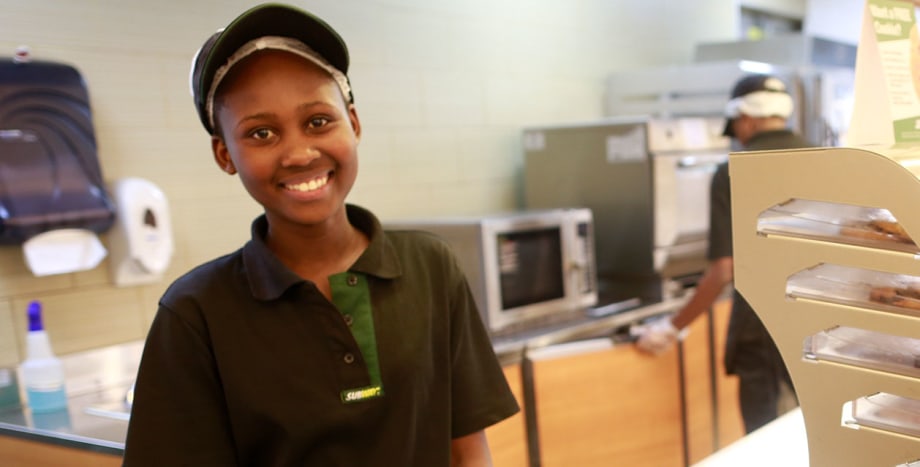 Stellah | Nairobi
She was one of the first graduates of Generation Kenya in 2016, and soon found a job at Subway, the quick-service restaurant chain. She's already been promoted to assistant manager.
A tough start in life
Stellah was born in rural Kenya, and was just seven years old when her mother passed away. A cousin took her in, but had little money to spare. "My life was very difficult," says Stellah. But she persevered, completing high school and going on to obtain a one-year IT diploma. She began teaching school children, but wanted more. That ambition took her to Nairobi, where she heard about Generation and enrolled right away in our retail sales program.
Generation taught me how to manage people—and myself
"I wanted to explore myself", Stellah says—and Generation gave her ample opportunity to do that. It also taught her the people skills that she would need to succeed in the workplace at Subway—and in her career. "Generation taught me how to handle people. Now, if a customer is upset, I now know how to stay calm, actually listen to them, and offer them a solution."
I got my promotion!
At the age of only 21, Stellah was promoted to an assistant manager position at Subway. She credits Generation for helping build her confidence—and she also benefited from close mentorship from a manager who spotted her potential. Stellah's new role came with a salary increase, and she is now saving for the future as well as supporting her grandfather. "My next step is to become a manager at Subway, but some day I want to continue my education," Stellah says.
A lifelong community
Generation not only gave Stellah a step-up in her career, it also helped her build a network for life. She is part of a community of Generation graduates who communicate regularly on WhatsApp and meet up once or twice a month. "I have many friends from Generation—and I'm still in touch with the coaches from my program," Stellah says. Apart from supporting one another, that community spreads the word about Generation and gives other young Kenyans hope for their future. "Everyone has the potential to grow," says Stellah. "As long as you have passion for what you are doing, everything is possible."