USA – June 2016 update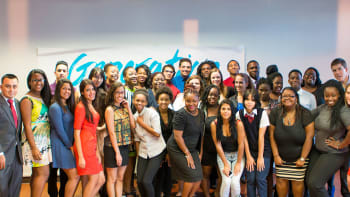 Generation USA has expanded in the first part of 2016. We're now in seven cities including:Atlanta, GA; Jacksonville, FL; Miami, FL; Pittsburgh, PA; San Francisco, CA; San Jose, CA; Wilmington, DE.
We plan to expand to 3-5 more cities before the end of the year. We also now have active programs across three sectors: healthcare (CNA), customer service (retail sales associate, front desk agent, call center), and technology (help desk, network support). Additional programs are being evaluated based on employer demand (e.g. medical billing and coding, medical assistant, skilled trades, programming).
And the numbers of alumni keep growing as well. Generation USA has graduated 441 young people in just over 17 months of operation with 202 students currently enrolled—already in five months of 2016 we have served more students than we did in all of 2015. Looking towards the upcoming summer, in four of our cities, we have become a preferred option for many graduating high school seniors that are looking to enter the workforce with a marketable skill. To keep pace with all of this growth, we've continued to win new funding, adding Longwood Foundation to our set of supporters.
Our results to date continue to show great promise. We are proud to note that our first technology program in Miami, FL, achieved a 100% passage rate on the CompTIA A+ certification compared to a national average of 33%. This complements our healthcare program that maintains a 90% passage rate on the CNA state certification exam compared to a 50% national average.
And employers are recognizing our graduates as a valuable source of talent. For example, we have recently added CVS Health as a national partner spanning three customer service professions. Ninety-five percent of supervisors say they would hire a Generation graduate again, and 80% of Generation graduates were ranked above average relative to peers. Furthermore, our programs maintain an ~80% employment rate for graduates within 30 days of graduation despite the vast majority of our students facing one or more major life barriers (e.g., homelessness, lack of childcare or transportation, domestic abuse, etc.).