Tapping into TVET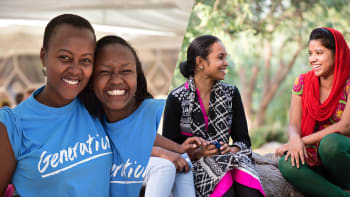 One of the keys to unlocking rapid growth for Generation is partnering with existing programs around the world.
In many countries, government-funded workforce development TVET (technical and vocational education and training) programs are a common model, and the place where you find the bulk of unemployed youth and available resources. Generation has begun exploring partnerships with TVET programs in two of the countries where we work: Kenya and India. In both cases, the model we're pursuing is to embed Generation's approach into existing programs, with the hope of seeing great results and lower costs; early results are quite promising.
In India, Generation has partnered with two entities: the Odisha Skill Development Authority (OSDA) and the National Skill Development Corporation (NSDC). The pilot program with OSDA began in late 2017 and will continue through most of 2018, training participants to be home nursing aides or food & beverage stewards. To date, more than 150 students have been enrolled, and those that have already graduated are in the job interview and placement process. Our partnership with OSDA will reach 250 of young people with this pilot by the end of next month, with plans to expand to hundreds more this year. Cost savings are estimated to be 60-70% over our usual delivery model. The partnership with NSDC, announced in January, will launch a pilot to train 5,000 students in a range of professions, including healthcare, tourism & hospitality, and beauty & wellness, with an eye towards ultimately expanding to reach tens of thousands of young people. The program will begin in Q2 2018.
Generation also launched first partnerships with TVET programs in Kenya in 2017, with 8 TVET program partners to date and more planned in 2018. So far, we are seeing a decrease in our operating costs of approximately 40%, we have graduated more than 600 young people, and have achieved high early placement rates (e.g., 91% placement rate in financial services sales roles).
We are excited to learn from and build on these early pilots with TVET programs.