Punjab Skills Development Fund and Generation launch partnership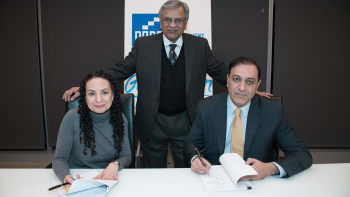 The new effort will connect unemployed and underemployed young adults with training and jobs starting later this year.
Punjab Skills Development Fund (PSDF) and Generation have joined forces to address the challenges facing young people who are seeking to connect with the job market. Together, the two leading organizations will bring a proven, innovative model—the Generation program—to Pakistan.
The partnership would launch a joint program in Lahore, expanding to additional locations in the future, to reach 2,500 young adults with the Generation program during the pilot phase. The organizations are currently evaluating the sectors and professions to target, including garments industry, healthcare, financial services, customer service, and digital jobs. The new program will seek to partner with local and national employers in the target sectors to identify job vacancies and deliver great talent.
"PSDF has developed a strong reputation for delivering skills programs guided by evidence on what works. We are now partnering with Generation, a world-renowned nonprofit, to incorporate proven international experience into our training programs to raise productivity of firms across Punjab," said Dr. Ijaz Nabi, Chairman PSDF.
"Generation is successfully delivering skilled graduates for employers in countries across four continents. PSDF is delivering innovative solutions to maximize income generation results for its graduates. It is this shared purpose and mindset of our two organizations that brings us together. PSDF brings Generation to Pakistan. This partnership will ensure that PSDF-funded programs and its graduates benefit from the globally proven methodology and tools used by Generation around the world," said Jawad Khan, CEO PSDF.
"This is an exciting start to the year for Generation, expanding from our original five countries into new geographies," said Mona Mourshed, President and CEO of Generation. "We're honored to be working with an organization as respected and innovative as PSDF to bring Generation's proven approach to Pakistan for the first time."
Generation is a demand-driven employment program that recruits, trains, and places young people in jobs. Working closely with employers, Generation has established programs across 20 professions and four sectors. The participants of the new program in Pakistan will join more than 17,000 existing graduates across five countries—India, Kenya, Mexico, Spain and the United States. Of those graduates, 83% of them have jobs within three months of graduation and more than 70% remain employed a year later. On average, graduates make two to six times the income after Generation than they did before, and collectively Generation's graduates have earned more than US$55 million in salaries.
Participants in the Generation program complete an intensive 4 to 12-week "bootcamp-style" training that integrates technical skills along with behavioral and mindset skills, helping students overcome both workplace and personal challenges. After successfully completing the program, students are guaranteed job interviews with employer partners. Employers see a return on their investment, with 98% percent of hiring employers say that they would hire a Generation graduate again and 88% saying that Generation graduates outperform their peers.
The new program in Lahore will launch officially in the second quarter of the year. For now, interested partners or employers can learn more by contacting info@generation.org.