Generation Kenya's Sewing Machine Operator program graduates first class of 148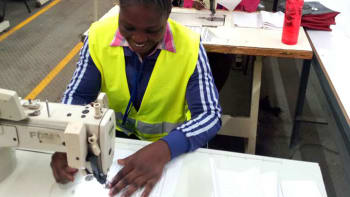 The Generation Kenya Sewing Machine Operator program, which was launched in August 2017, has recently graduated 148 young people. The program, funded by USAID, the USAID East Africa Trade and Investment Hub, and McKinsey & Company, targets young people aged 18-35 with minimum education qualifications. Young people in Mombasa Apparel Mtwapa, Mombasa Apparel Jomvu, Africa Apparel Nairobi and Kenya Industrial Training Institute (KITI) Nakuru, our first 4 training centers, went through a hands-on, full-time 8-week training program.
During the training they were equipped with the technical and soft skills needed to start a career in the apparel industry. Participants learned skills such as operating a single needle lock-stitch machine alongside the major operations in the garment industry necessary to work in the Export Processing Zones (EPZs).
In only 1 week, we have helped 64% of these graduates secure jobs in the various factories in Nairobi, Nakuru, and Mombasa, and we aim to help secure jobs for the remainder in the coming weeks. Generation is implementing the Sewing Machine Operator program in partnership with two implementing partners — Centum and Infrastructure Leasing & Financial Services — and three industry partners — Mombasa Apparel, Africa Apparel, and Bedi Investments.